SO YOU THINK YOU CAN DANCE CANADA Second Canadian Tour Announced
2009-09-30 16:22:19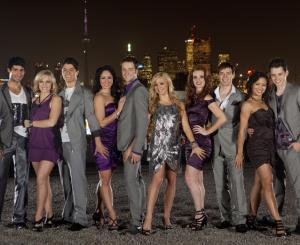 – Top 10 dancers to hit 18-cities on a whirlwind Canadian tour –
– Tickets go on sale October 3, 2009 –
Toronto, ON (September 22, 2009) – This evening's exciting episode of CTV's SO YOU THINK YOU CAN DANCE CANADA announced an 18 city, coast-to-coast tour of Canada where the Top 10 finalists will be showcasing their incredible talents to audiences nationally. 19 Entertainment, Dick Clark Productions, AEG Live and Donald K. Donald are thrilled to announce the second SO YOU THINK YOU CAN DANCE CANADA Tour, which kicks off on November 25th, 2009, in Kelowna, B.C. There are 12 remaining dancers vying for a place in the coveted, final top 10.
Besides hitting the major markets of Vancouver, Toronto and Montreal, the SO YOU THINK YOU CAN DANCE CANADA Tour will take the Top 10 dancers across the country, including first-time stops in Lethbridge, Windsor, Quebec City, Saint John and Halifax! Fans nationwide will have the opportunity to cheer on their favourite finalists as they perform some of their most-loved dances at Canada's most prestigious venues.
With the success of last season's tour, featuring champion Nico Archambault, there is no doubt that tickets will be snapped up by eager fans ready for a second taste of the SO YOU THINK YOU CAN DANCE CANADA's electrifying performances! Tickets for the tour will go on sale October 3, 2009. Full details regarding ticket purchasing will be soon available on AEGlive.com and CTV.ca/mini/dance2009.
The SO YOU THINK YOU CAN DANCE CANADA Tour 2009 will showcase the most sizzling routines and mesmerizing performances of the season. The national tour includes the following 18 stops:
November 25 – Prospera Place – Kelowna, BC
November 27 – General Motors Place – Vancouver, BC
November 29 – Enmax Centre – Lethbridge, AB
November 30 – Rexall Centre – Edmonton, AB
December 1 – Credit Union Centre – Saskatoon, SK
December 2 – Pengrowth Saddledome – Calgary, AB
December 4 – RBC Theatre at MTS Centre – Winnipeg, MB
December 6 – Sudbury Arena – Sudbury, ON
December 8 – WFCU Centre – Windsor, ON
December 9 – John Labatt Centre – London, ON
December 10 – Air Canada Centre – Toronto, ON
December 12 – Copps Coliseum – Hamilton, ON
December 13 – K-Rock Centre – Kingston, ON
December 15 – Bell Centre – Montreal, QC*
(*co-presented by Gillette Entertainment Group)
December 18 – Scotiabank Place – Ottawa, ON
December 19 – Colisee Pepsi – Quebec City, QC
December 21 – Harbour Station – Saint John, NB
December 22 – Metro Centre – Halifax, NS
SO YOU THINK YOU CAN DANCE CANADA performance episodes air Tuesdays at 8 p.m. ET, and results episodes air Wednesdays at 7:30 p.m. ET on CTV. Encores of both can be seen back-to-back on MuchMusic, Sundays at 6 p.m. ET.
Highlights from each week's SO YOU THINK YOU CAN DANCE CANADA episodes are available on demand on the CTV Video Player at CTV.ca. For exclusive footage and clips, information on dancers, judges and choreographers along with image galleries, videos, forums, blogs from the judges and more, visit dance.CTV.ca.
SO YOU THINK YOU CAN DANCE CANADA was created by Simon Fuller and Nigel Lythgoe, and is produced in association with CTV by Danse TV Productions. Sandra Faire and Trisa Dayot are Executive Producers. Ed Robinson is Executive Vice-President, Programming, CTV Inc. Susanne Boyce is President, Creative, Content and Channels, CTV Inc.
About 19 Entertainment
The 19 Group of Companies was founded by Simon Fuller in 1985 and has achieved over 40 No. 1 singles and 15 No. 1 albums. Fuller also has an impressive tally of over 60 Top-40 albums and 170 Top-40 singles in the U.K. alone. Fuller created and managed the Spice Girls, who became a global phenomenon under his guidance, selling over 38 million albums. In 1998, Fuller's 19 launched S Club 7, which has sold 10 million CDs worldwide, while its three television series have consistently topped children's viewing figures, reaching 104 countries. In 2001, Simon Fuller's 19TV created and produced the television phenomenon "Pop Idol" and in 2002, AMERICAN IDOL. "Pop Idol" launched the singing careers of Will Young and Gareth Gates in the U.K., while AMERICAN IDOL did the same for Carrie Underwood, Fantasia Barrino, Kelly Clarkson, Taylor Hicks, Jordin Sparks and Ruben Studdard in the United States. 19 Entertainment produces the FOX summer hit SO YOU THINK YOU CAN DANCE along with Dick Clark Productions, Inc.
About Dick Clark Productions, Inc.
Founded in 1957, Dick Clark Productions, Inc. (DCP) is a leading independent producer of television programming. DCP produces perennial hits such as the American Music Awards, the Golden Globe Awards, Dick Clark's New Year's Rockin' Eve and the Academy of Country Music Awards. DCP also produces popular weekly television programming, including SO YOU THINK YOU CAN DANCE, and owns and maintains one of the world's most unique and extensive entertainment libraries, which includes more than 30 years of American Bandstand among other things. For additional information, please visit www.dickclarkproductions.com.
About AEG Live
AEG Live, the live-entertainment division of Los Angeles-based AEG, is dedicated to all aspects of live contemporary music performance, touring for a variety of programming and multi-media production. AEG Live, the nation's second largest concert promotion and touring company is comprised of special event, broadcast and exhibition divisions, eleven regional offices and numerous state of the art venues nationwide. The company's national promotion arm is currently producing tours and productions including Celine Dion A New Day… now appearing at The Colosseum at Caesars Palace in Las Vegas and "Tutankhamun and the Golden Age of the Pharaohs," an international tour of the artifacts of King Tut. Recent and upcoming promoted concert tours have included artists such as Justin Timberlake, Bon Jovi, Prince, Christina Aguilera, Kenny Chesney, So You Think You Can Dance, Paul McCartney, High School Musical, American Idols Live and Dancing with the Stars. Goldenvoice, the company's Southern California-based regional promotion division created and operates the award winning annual Coachella Valley Music & Arts Festival as well as Stagecoach: California's Country Music Festival. The company operates NOKIA Theatre at Grand Prairie in Texas, NOKIA Theatre Times Square in New York City, and the NOKIA Theatre L.A. LIVE.
About Donald K Donald
For more than forty years, "DKD" has been synonymous with world-class musical event productions and presentations in cities large and small across Canada. The legendary Donald K Donald, aka Donald K. Tarlton, has brought the very best performers from around the world to Canadians, and produced Canadian talent around the world. The tradition continues today with the production, promotion and execution of record-setting live concert events, as well as the management of private and corporate events.
About CTV Inc.
CTV, Canada's largest private broadcaster, offers a wide range of quality news, sports, information, and entertainment programming. It has the number-one national newscast, CTV National News With Lloyd Robertson, and is the number-one choice for prime-time viewing. CTVglobemedia Inc. is Canada's premier multi-media company which owns CTV Inc. and The Globe and Mail. CTV Inc. also owns radio stations across the country, and leading national specialty channels. Other CTVglobemedia investments include an interest in Maple Leaf Sports and Entertainment, and in Dome Productions, a North American leader in the provision of mobile high definition production facilities. More information about CTV may be found on the company website at www.ctv.ca.
- 30 – For more information:
Christy Sullivan, SO YOU THINK YOU CAN DANCE CANADA, 416.526.3052 or chsullivan@ctv.ca
Allie Page, CTV Inc., 416.332.4596 or apage@ctv.ca
Roger Widynowski, 19 Entertainment, 310.777.1940, rogerw@19entertainment.com
Andre Hudon, Donald K Donald, 514.904.0193, x 333 or andre@dkd.com
Nicola Krishna, SO YOU THINK YOU CAN DANCE CANADA 2009 Tour Publicity, 416.861.0387 or nicola@strutentertainment.com