Juno Nominations, Sum 41 on Climate Change & Dumas' 'Les Secrets'...
2008-02-07 15:54:09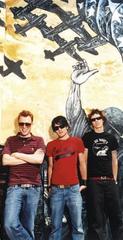 Congratulations to Jeremy Fisher and Sum 41 of Aquarius Records!
Jeremy has been nominated for a Juno in the categories of Best New Artist and Best Adult Alternative albm, while Sum 41 received recognition for 'Underclass Hero' as Best Rock Album.
Best of luck to Jorane of Tacca Musique and Chromeo of Last Gang who were also nominated for Junos this year.
Sum 41 & MuchMusic on Climate Change…
Catch Sum 41's Steve Jocz and Cone McCaslin on Monday February 11th, 8PM, with Much Music's VJ Hannah Simone for a MuchTalk on climate change as they reveal important findings from their nationwide explorations.