Brown Brigade Free Guitar Clinic, Jeremy Fisher Video & Gob Contesting galore!
2007-11-27 10:45:09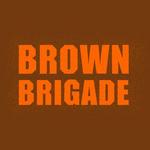 Brown Brigade Free Clinic Nov. 29th at L&M Bloor St. West
Take advantage of this invitation from Dave Baksh:
Listen everyone. We are so amped. We have a clinic coming up at Long And Mc Quade (935 Bloor ST. West)
Hours:
7pm – 9pm
The clinic will be a lesson in song writing forming a band and confidence with your instrument.
Now the catch the price is: FREE
Catch Brown Brigade live in show at the following dates:
7/12/08 Jeff Healy's, Toronto 5/12/08 The Shoe, Toronto
Brown Brigade are also Yahoo! Music Canada's current featured emerging artists.
Up close and personal with Jeremy Fisher
Check out the
latest video on his Youtube channel.
Gob on tour
Enter with Exclaim! to win a prize pack including tickets to your choice of show dates.