Show Time!
2007-09-01 10:49:33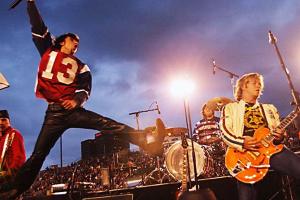 Danko Jones:
15-Sep-07 Sat CAN AL Edmonton @ Campus Chaos
16-Sep-07 Sun CAN AL Calgary @ The Broken City
18-Sep-07 Tue CAN MB Winnipeg @ Transcoma Inn
19-Sep-07 Wed CAN MB Brandon @ Roadhouse
20-Sep-07 Thu CAN SK Saskatoon @ Louis pub
21-Sep-07 Fri CAN SK Regina @ The Distrikt
For details visit Danko's official site
The Operation M.D and Sum 41:
Toronto, October 24th @ Kool Haus for the Casbys Awards Show
*The Operation MD received 2 Casby nominations this year for Favorite new artist, NXNE Favorite New Indie Release. Sum 41's 'Underclass Hero' was nominated for Favorite New Album.
Visit The Edge for details.
Hot Springs of Quire Records:
September 28th @ Le Nationale w/ Miracle Fortress, in celebration of the launch of their new album, Volcano.
October 13th @ Le Zaricot, St-Hyacinthe
Check out the Hot Springs myspace page to sample their sounds.