Press release: The final North American date of the U2 360° Tour will visit Magnetic Hill Music Festival in Moncton, New Brunswick on July 30th, 2011 with very special guest Arcade Fire.
2011-01-31 11:43:28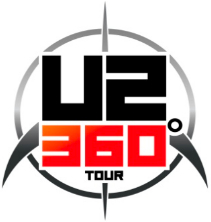 FIRST EVER APPEARANCE IN ATLANTIC CANADA!
U2 360°
July 30th, 2011 – MAGNETIC HILL MUSIC FESTIVAL – MONCTON
Special Guest ARCADE FIRE
Tickets go on sale to the public on Tuesday, February 8th at 10am
Monday, January 31, 2011 – For release 12:30 pm – Live Nation Global Touring in association with Donald K Donald Events and The City of Moncton have today confirmed that U2 will come to Atlantic Canada for the first time ever! The final North American date of the U2 360° Tour will visit Magnetic Hill Music Festival in Moncton, New Brunswick on July 30th, 2011 with very special guest Arcade Fire.
"The Moncton show is set to be the final date of the U2 360 Tour in North America and we're really looking forward to bringing this now legendary 360 production into Atlantic Canada for the first time" says U2's manager Paul McGuinness.
Having just completed their sold out European tour, along with stops in Australia and New Zealand, U2 360° will visit South Africa and South America before arriving back to North America in May. By the time it reaches Moncton, U2 360° will have been seen by over 6.5 million fans.
"To say that we're excited about welcoming U2 to Moncton is an understatement," added Moncton Mayor George LeBlanc. "Our Magnetic Hill Concert Site has seen some outstanding artists over the past five years, and the 2011 event will be no exception. To host one of the biggest bands, on one of the biggest stages, as part of one of the biggest tours for their final North American date is an honour."
With a cylindrical video system of interlocking LED panels, and a steel structure rising 150 feet from the floor over a massive stage with rotating bridges, the band has truly created an intimate 360º experience for concertgoers. Long-time U2 Show Director Willie Williams has worked again with architect Mark Fisher (ZooTV, PopMart, Elevation and Vertigo), to create an innovative 360 design, which affords an unobstructed view for the audience.
"There is no stadium big enough in Atlantic Canada" said Donald K Donald, "so we will build one and they will come. The impossible will become possible. Moncton will host the last North American U2 360° Tour date and it promises to be the biggest and greatest entertainment spectacle in Atlantic Canada history."
Montreal's Arcade Fire has followed up their smash albums "Funeral" (2004) and "Neon Bible" (2007) with the now three-time Grammy Award nominated, "The Suburbs" (2010).  Debuting at #1 on the U.S. Top 200 and selling 475,000 copies and counting, "The Suburbs" has been nominated for Album of the Year, Best Rock Performance By A Duo or Group, and Best Alternative Album.  This fiercely independent band has faced pressure from every corner of the music industry, but they carved out something beyond the grasps of the major label system with great success, a combination of Internet word-of-mouth and old-fashioned live show impressions.
Joining U2 and Arcade Fire on the bill will be up and coming rock band, Carney. Carney's first full length album, entitled "Mr. Green", was released in May 2010 on DAS Label/Interscope. For more information on Carney, please visit www.CarneyTheBand.com.
Tickets for the U2 performance in Moncton will go on sale Tuesday, February 8th at 10am. Reserved grandstand seats will be available at $29.50, $99.50, & $199.50, while general admission tickets are $65.00 each. A limited number of Red Zone tickets will also be available at $275.00. All tickets include taxes but are subject to applicable service charges. Purchase all tickets online at www.Ticketmaster.ca and www.Livenation.com with some general admission tickets available at Needs Convenience Stores across Atlantic Canada, the Moncton Coliseum Box Office or charge by phone at 1-888-720-5600.  
U2.com subscribers will have access to an exclusive pre-sale opportunity.  Full details at: www.u2.com
U2 360 Tour at Magnetic Hill Music Festival is produced by Live Nation Global Touring in association with Donald K Donald Events and the City of Moncton.
For complete tour and ticket information, fan club memberships, merchandise and more, visit: www.u2.com Press materials available at: www.u2.com/rmpphoto.
For local information, please visit www.magnetichillmusicfestival.ca.
City of Moncton & Media Accreditation:
Jillian Somers
Jillian.somers@moncton.ca
U2 Canadian publicity:
Mima Agozzino
Universal Music Canada
mima.agozzino@umusic.com
Arcade Fire publicity:
Steve Martin
steve@nastylittleman.com
Live Nation Publicity:
Liz Morentin – 310-975-6860
lizmorentin@livenation.com
Donald K Donald:
Andre Hudon – (514) 904-0193 ×333
andre@dkd.com
About Live Nation Entertainment:
Live Nation Entertainment (NYSE-LYV) is the largest live entertainment company in the world, consisting of five businesses: concert promotion and venue operations, sponsorship, ticketing solutions, e-commerce and artist management.  Live Nation seeks to innovate and enhance the live entertainment experience for artists and fans: before, during and after the show.  In 2009, Live Nation sold 140 million tickets, promoted 21,000 concerts, partnered with 850 sponsors and averaged 25 million unique monthly users of its e-commerce sites.  For additional information, visit www.livenation.com/investors.
About Donald K Donald Events:
For more than forty years, DONALD K DONALD ("DKD") has been synonymous with world-class musical event productions and presentations in cities large and small across Canada. The legendary Donald K Donald, aka Donald K Tarlton, brought the very best performers from around the world to Canadians, and produced Canadian talent around the world.
Today, as a boutique concert production and event marketing company, DONALD K DONALD EVENTS applies that professional expertise in event management and production to the designing, building and execution of customized specials events and promotional entertainment events. Visit www.dkdevents.com
About Magnetic Hill Music Festival:
The Magnetic Hill Music Festival was created by DKD and the City of Moncton as an event that would attract the World's best musical artists that would otherwise not perform in Atlantic Canada. The Festival site, located in the outskirts of the City of Moncton, offers one of the most magnificent natural amphitheatre settings which draws thousands of spectators from all over the four Atlantic Canadian provinces, eastern Quebec and northern State of Maine. The MHMF has hosted such great performers as the ROLLING STONES (2005); EAGLES (2008); BON JOVI (2009) and AC/DC (2009).