Donald K. Tarlton C.M.
Donald K Tarlton C.M. is the former CEO of Donald K Donald Productions and BCL Entertainment Corporation, two of Canada's most celebrated and successful concert touring companies. As such, he was the impresario in Canada for most of the contemporary concert performers and superstar tours and festivals throughout the last half of the 20th century.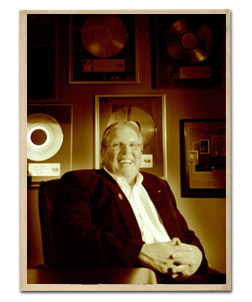 Today, he is the Chairman and owner of The Donald K Donald Entertainment Group, which manages several recording labels, including Tacca Musique and Aquarius Records. He is also a partner in Last Gang Records, Indica Records, Arts and Crafts International, Upper Management and Preste.
Donald is the Chairman of Donald K Donald Events – a marketing, sponsorship, and communications company, which includes event and tour production, and talent representation. In 2005, the company in association with TNA and CPI set an all-time Canadian concert box office record when it co-promoted The Rolling Stones at Magnetic Hill in Moncton, N.B. – a show that was attended by more than 80,000 patrons. In 2006 the company co-produced the largest-grossing concerts ever in Canada with The Rolling Stones' "Bigger Bang" Tour at Mosaic Stadium, Taylor Field in Regina.
Furthermore, Donald is also the Chairman of OYE! Canada Inc, an entertainment programming and production company responsible for booking and producing theatrical, variety and music events and cultural presentations on behalf of corporate and government clients. OYE! Canada was the producer of Canada's Cultural Program at Expo 2005 in Aichi, Japan and also produced the Canada Day Celebrations on Parliament Hill, Ottawa and at The Old Port in Montreal.
Additionally, Donald is Chairman of the Toronto based Strut Entertainment Group, a marketing, entertainment programming, event production, tour coordination, publicity and communications company.
Donald is a Tony Award®-winning Broadway producer and has promoted attractions as diverse as Black and Blue, the Bolshoi Ballet and Tango Argentino. He also launched a tour production company called DKD!Spectacle that enjoyed its greatest success as the global producer and touring representative for Céline Dion throughout the '90s.
An active volunteer, Donald sits on the boards and committees of several community charities. He also has served the industry as a Director with CARAS, AVLA, Radio Starmaker Fund and Fidec. In 2000, Donald was honoured by his country with his appointment and investiture into The Order of Canada.
This year, he was chosen by CARAS to receive the 2007 Walt Grealis Special Achievement Award, which recognizes an outstanding individual who has contributed to the growth and advancement of the Canadian music industry.
In 2000, Donald was honoured by his country with his appointment and investiture into The Order of Canada